The following article, combined with the next article on optimizing Google My Business, is also available as a PDF download.
How to Set-up a Google My Business Listing in 8-Simple Steps
Internet Live Stats claims that an incredible 5.5 billion searches are carried out on Google each and every day. This amounts to over 63,000 search queries per second. However, you also know that 1 out of every 5 Google searches are carried out by people searching to purchase goods and services locally?
Indeed, they are. What this means is, if you operate a business, a staggering 1.1 billion searches (or 12,600 per second!) on Google are from persons looking for products and services in the local geographic area in which they live and, or work.
This need from the public to find merchants and service providers who offer products and provide services in their respective neighborhoods, is the reason why more and more business owners are scrambling to get themselves and their company's listed on Google My Business (GMB), and you should too.
This amounts to an unprecedented opportunity for you as a business owner to increase your sales and revenue by letting your neighbors and other folks who live and work in your local area, know of your presence and your desire to serve them, along with the goods and services you have to offer.
What's great about all this is, Google My Business is a free and easy-to-use resource for businesses and organizations.
On top of that, GMB also lets you manage how your business appears on Google Search and Maps. This includes your business name, your location, as well as your hours of business.
They also give you an opportunity to monitor and reply to customer reviews regarding your business as well as add photos and lastly, discover where and how people are searching for you and your company.
What's more, Google Maps has more than 150 million mobile users and 59% of monthly Google users are using their phones to search for local businesses. So, if you want to attract new business in your local area, having and maintaining a Google My Business listing is an opportunity you'll want to pursue.
The reality is, when people begin to search for a product or service near them, they're generally motivated and ready to make a purchase. That's why five out of every ten, or one out of two persons who conduct a local search visit a store that very day.
Think of jewelry repair, antiques, restaurants, pizza, flowers, plumbers, roofers, theme parks etc. You can see why it's important the information you post on your Google My Business listing is complete, accurate and optimized when people search on Google.
Here's how you can set-up your own Google My Business listing:
1. Visit the Google My Business's Website
Visit the following page: https://www.google.com/business/ or go to Google and type in "google my business." It will be the first result you see.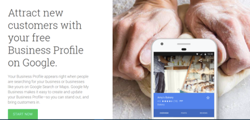 2. Click the Green "Start Now" Button
If you're not already signed into Gmail, you will be prompted to sign in.
Be sure you are signed into the same Gmail account you want to associate with your business listing.
3. Enter the Name of Your Company or Business
Once you're logged in, if you haven't previously set up a listing in the past, it is going to ask you to enter the name of your business.
It's worth noting:
If someone has already listed your company on Google (which does happen) then you will see your listing come up.
Now if your company doesn't appear, click the text under your business name that says: Create a business with this name. Then click "next."

4. Enter the Address of Your Business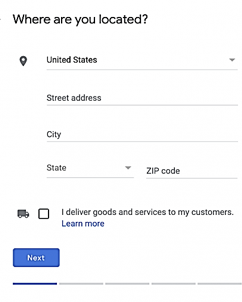 5. Are You a Brick & Mortar Establishment or a Service Oriented Business?
If you have a brick and mortar business, leave the box blank where it indicates "I deliver goods and services to my customers" and if your customers or clients come to your place of business when dealing with you.
Examples of Brick & Mortar Businesses
grocery stores
gas stations
doctor's offices
mechanic's shops
restaurants (that don't deliver)
churches
lawyers
accountants
Service Oriented Businesses
If you're a Service Area Business, click the box that says: "I deliver goods and services to my customers"
You'll see another box appear which gives you the option to hide your address if you so choose. If you don't want your address displayed (for example, if you use your personal address as your business address), then go ahead and check this box.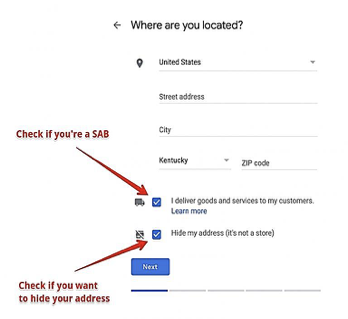 Examples of a Service Area Business
A business that goes to the customer or delivers things to the customer but doesn't primarily serve its customers at its business address. For instance:
General contractors
Exterminators
plumbers
roofers
electricians
*If you serve customers at your business address and deliver to them, then you can also register as a service area business (e.g., pizza shop, florist)
5-a. If you are a Brick & Mortar Business, drag the map marker to your location
If you operate a brick and mortar business, you'll need to set your business location on a map.
You may have to drag the marker to the exact location on the map that your business exists. Simply place your marker where it should go on the map, and then press the "Next" button again.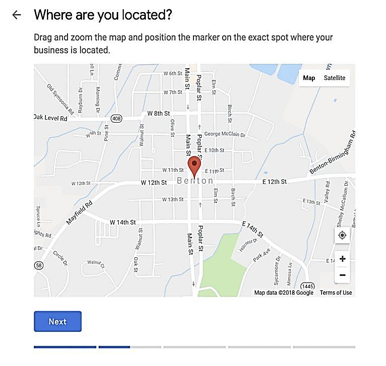 5-b. If you are a Service Area Business set your service area
It's time to let Google know what area you serve customers.
Here is how to set your service area:
You have the option of setting your service area based on your city, county, state, zip-code, country, and so on and so forth.
Inside tip: If you serve an entire county, best to just enter the county name instead of trying to list all of the zip-codes that may exist in your county.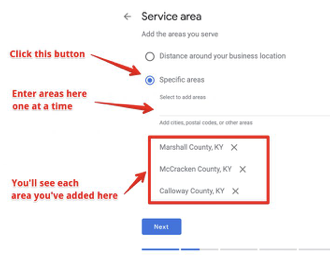 6. Categorize Your Business
When you insert your "categories" in Google My Business, you will have the opportunity to indicate both a primary and secondary category.
Note: If your primary reason for setting-up a GMB listing is so your business will come up in Google's results page when potential customers are searching for the kind of products or services you offer, then getting this step right is the key for that to happen.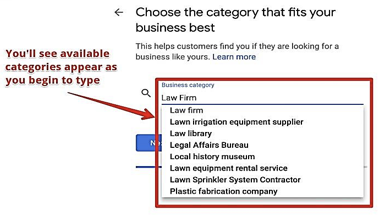 How to Select the Best Google My Business Category for Your Company:
If you are unsure of what category is the best category for your company, you can search for the type of business you run on Google, and see what categories your competition selected.
If you spot a majority choosing a particular classification, it's a safe bet that you should select it too.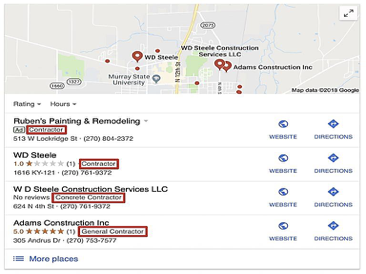 In the example above, you can see that a majority of construction businesses in the indicated area categorize themselves as a specific kind of "contractor." If you primarily provide only one type of service, be specific!
7. Select Which Contact Details to Show Your Customers
Adding contact details to your Google My Business listing is optional but including things like your website is a benefit that's hard to ignore since it can potentially lead a visitor to your site, which gives you a second opportunity to convert them into a customer.
Listing your phone number will also give an existing customer or new prospect a direct way to reach you. On top of this, Google will bump up your listing a little in its search engine each and every time a visitor visits your website, gets directions, calls you, or texts you from a local search.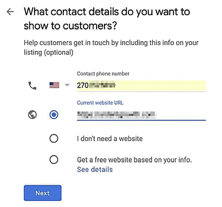 Note: If you don't have a website, you can select the "I don't need a website" option or the "Get a free website." Also, be sure you list the exact URL from your website on where it is listed, such as:
Yelp
Yellow Pages
Google +
Local Chambers of Commerce etc.
Click the "Next" button.
8. Finish and Verify Your Business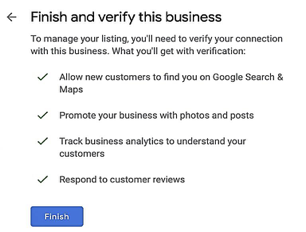 How to Verify Your Business
Verifying your business may take a couple of days. The way Google lets a business owner know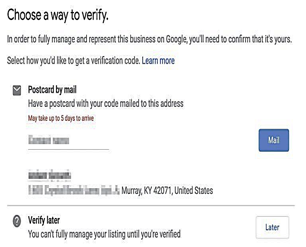 Next week, we will look at optimizing the listing.

Please share: