Today, Facebook Messenger instituted some major policy changes.
Here are the major changes (see chart below for comparisons to the previous policy):
Facebook announced changes to its Messenger policies. They will take effect on March 4, 2020.
Businesses are only allowed to message subscribers within 24 hours since the last interaction with a Business's Facebook page. This is now generally knowns as the "24-hour messaging window."
Sending Promotional content is still allowed within the 24-hour messaging window.
Messages sent outside this 24-hour window must be tagged with one of four Message Tags. The tags are Confirmed Event Update, Post-Purchase Update, Account Update, or Human Agent.
One-Time Notifications (OTN): You're able to send a single message to users who opted-in to receive it. The OTN will allow you to send messages beyond 24 hours. This should be used for use cases that don't fall into the definition of the four Message Tags. Clever Messenger pushed the OTN Request Card. You can find it the Flow Composer.
Important: Messages that do not have a Message Tag will not deliver outside the 24-hour window as of March 4, 2020.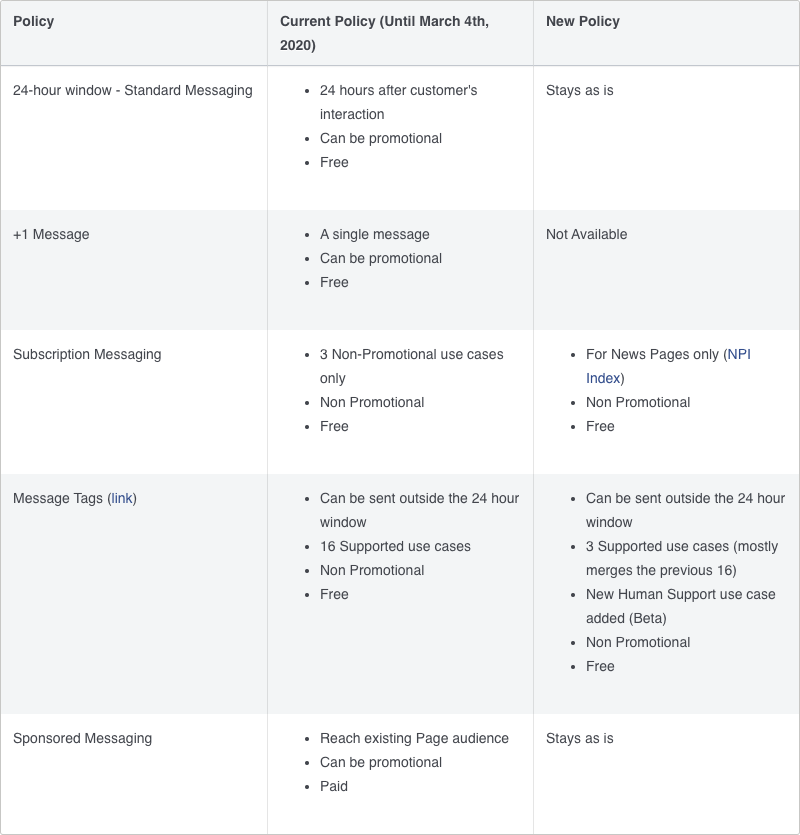 The above information was taken from Clever Messenger's Blog. Click here to read the full post which contains much more detailed information.
Clever Messenger is the Facebook Messenger Chatbot software I use and recommend. If you check Clever Messenger out and decide to buy it through my affiliate link, I will give you a starter account for each the following 8 software products: Chirply (lead gen and automated text, voice and email followup, plus inbound and outbound IVR), RoboContact (automated lead gen and cold email follow up), Sticky Reviews (social proof and reviews on autopilot for any website), Link Wizard (powerful link management software), Invoicing You (invoicing software with many features), Domain Leads (newly registered and soon-to-expire domain leads), Friend Connector Chrome Extension (automatically acquire targeted Facebook Friends), Magic Zap (customize any page to the visitor). If you upgrade to the annual or Agency plans for Clever Messenger, I will upgrade your bonus software accounts to Pro versions. (You can see more details on the software by clicking here).

Email your Clever Messenger receipt to ed@edakehurst.com and allow me 24 hours to verify your purchase, and to create your bonus accounts.

Click here to look at Clever Messenger. This is my affiliate link – note if you want the software bonuses above, you must acquire it through my link and email me the receipt.

Please share this post: