The number one way to increase your ad ROI is to implement systems that better manage the timeliness of lead follow up.
Why can one business get more than 10 times the results from a lead campaign as other firms using the same ad strategies and targeting?
In most cases, it has little to do with the closing ability of the on-boarding team, or the expertise of the staff, or even much to do with where the leads came from or their quality.
All of those can make a difference, and need to be addressed and handled. However, the main reason for such a wide gap in a leads-to-customer ratio is how timely the sales staff handles lead follow up.
A matter of minutes can make or break the results of a lead campaign.
A study conducted with MIT Faculty Fellow Dr. James Oldroyd, in collaboration with InsideSales.com, focused on the effects of timelines in lead follow up to see how it affected results. They went on to further study whether particular days and times for follow up also had an impact.
They discovered that not only is timely follow up crucial, but results can drop significantly with as little as a 5 minute delay in reaching out to a lead.
Think about that for a moment and really let it sink in: Results can drop as much as 100 times with as little as a 5 minute delay in reaching out to a lead.
Initially, they studied breakdown by the hour, and found a drop of more than 10 times if the lead was contacted in the first hour after read creation versus being contacted in the second hour.
However, when they analyzed closer, and broke that first hour down into 5 minute increments, the results were even more astounding.
Here are two charts showing how significantly the time it takes to follow up a lead can impact your results (images from InsideSales.com):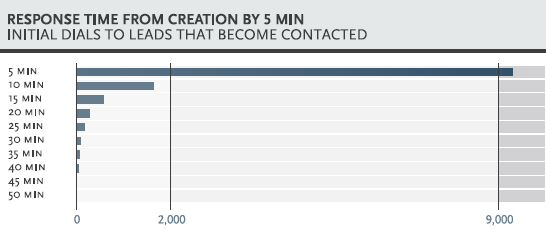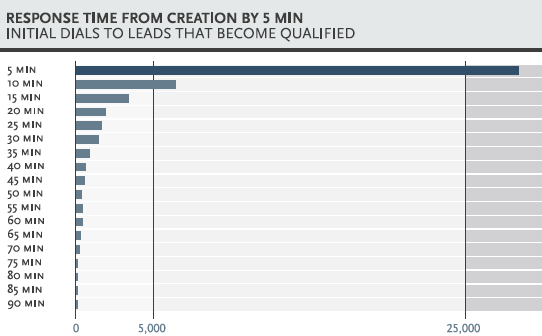 The difference between being able to reach and qualify a lead contacted within the first 5 minutes, versus waiting even just a half hour is over 100 times!
Does your business have a system in place to ensure a lead gets contacted within the first 5 minutes of lead creation?
If not, you are seriously damaging the effectiveness of any lead campaigns you are running.
You need to be able to reach out to a lead using multi-channel communications, and you need to have that happen instantly upon lead creation. Within the first 90 seconds, a lead should receive an email, a text and a phone call to ensure reaching them within that crucial first 5 minutes.
If you would like to significantly increase your ad ROI, you must implement instant multi-channel communication with the leads.
You can use any software you like to accomplish that. I do have one I recommend, and yes I am an equity partner in the software firm, but I partnered with them for a reason: they are the best at what they do!

If you would like to see what I use, click here.

If you found this article helpful, please share: